How to Decide What Type of Concrete Pump Would Best Suit My Project?
This article has been produced to help contractors/builders decide what type of concrete pump will best suit their project needs.
There are quite a few considerations to take into account when ordering a concrete pump these include:
Concrete amount
Site access
Where the concrete needs to get too
Obstacles and hazards (trees & overhead cables)
Site space available
How much concrete are you pouring?
Generally, if you are pouring a small amount of concrete and you are just looking to avoid barrowing the concrete then a small trailer/static or bulldog pump will be more than sufficient for your concrete pump needs.
Providing the concrete predominantly needs to go to one area, this will probably be the best solution.
Site access
This refers to the access in and out of site! Remember that the concrete pump will normally be required to drive front first into the site and then the concrete mixer/volumetric will then reverse up the back of the pump to unload.
You will also need to make sure that the ground that the concrete pump and concrete truck are driving on is good and able to take the weight of these vehicles.
Where the concrete needs to get too
This might seem pretty obvious. You need to measure out how far away the furthest part of your pour is. This measurement will be taken from where you think the pump will be located.
The type of pump you will require will then be determined by what you are pouring. For instance, if you are pouring inside a building then it is more than likely that you will have to run pipes. If that is the case then you probably won't require a boom pump unless you are looking to pour into various floors on a building.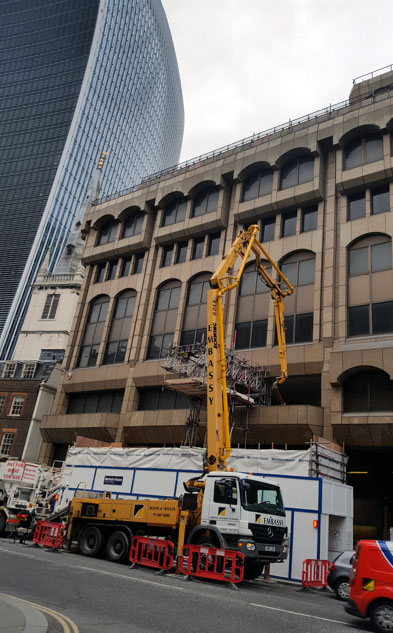 Obstacles and hazards (trees or overhead cables)
When accessing where you think the pump might be situated. Please be aware of trees that might impede the concrete pump in setting up (especially if they are under TPO's). Overhead cables might also make it difficult to set a concrete boom pump up.
You also need to look for obstacles on the ground. In particular open trenches. There is a tremendous amount of weight put on the front and back legs of a concrete pump. The ground needs to be suitable to support that weight.
The pump will arrive with full leg supports to fit under the pump.
Site Space available
When you decide what size pump you require you need to also bear in mind the space that is required to set that pump up.
If you download the spec sheets from our full fleet list you will be able to see the footprint each pump requires to set the various pumps up.
At Embassy Concrete Pumping we are only a phone call away so call us to discuss your project: 01883 342 075