Frequently Asked Questions
How much space does the pump I ordered need to set up?
Download the relevant spec sheet from our fleet page and it will tell you the footprint required to set the particular pump up.
I can't get a wheelbarrow down the side of my property — can you still get the concrete to the back?
A concrete pump would be the ideal solution to get the concrete to the rear of your property because this only needs enough room to walk.
We carry approximately 40m of pipeline with a selection of bends and flexible pipes, so we're very well-equipped to meet your individual needs.
If you need to pump further then 40m please call the office to discuss.
What information is required to place a concrete pump order?
Pump size (if you know the pump you require)
Site address of the job
Volume of concrete
Time on site (allowing time to set up prior to the concrete arrival)
Your details (name, company name, telephone number and email address)
Date you require the concrete pump
How far can you pump concrete?
Concrete pumps can pump over 300m in horizontal distance. If you are using a ground line pump, the pipes come in 3m sections so pumping that distance would require 100 pipes.
These are generally specialist jobs and we would advise calling us to discuss your concrete pumping options.
Does pumping concrete create a lot of mess?
Concrete pumping can be messy so we would always recommend having a water supply to the pump and a place to wash out. A sheet of polythene is also a good idea.
For a boom pump, there can be approximately 7-8 wheelbarrows of concrete left at the end which unfortunately can't be pumped out.
We recommend making a box using plywood and a tarpaulin to contain this excess concrete and water until it has cured, as shown in the images below: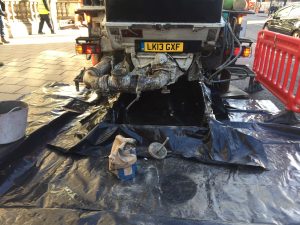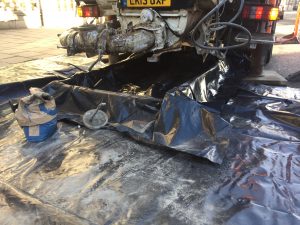 How much time is required for pumping concrete?
Our concrete boom pumps are capable of placing concrete at up to 160 m³ per hour — although you will never get concrete that fast.
We can control the flow rates for more delicate concrete pumping operations.
Can concrete be pumped in all weather conditions?
Yes. We often pump concrete in the Rain, Wind & sometimes snow (temperature permitting)
Is it possible to pump all concrete types?
We can pump almost any type of concrete as long as it is a pump mix.
What is a pump mix?
A pump mix is a concrete mix design which contains extra cement and sand to allow it to flow through the pipelines.
If the concrete has too much stone and not enough sand and cement it will not pump.
How wet can I have the concrete?
Please be careful when adding water to concrete as it could potentially weaken it or cause the concrete to segregate.
Is it possible to pump screed?
We can pump a wet screed, but for dry screed, you will require a screed pump.
For more help please call 01883 342075.
Is a minimum volume required to pump concrete?
No, we can pour any amount of concrete. Contact us to discuss your particular requirements.
What access do you need for a boom pump?
Please see the fleet page of our website for the dimensions of our trucks. Also, bear in mind that a concrete lorry is approximately 11m long.
What tools are needed when receiving a pumped concrete delivery?
Aside from enough space to park the concrete pump, we also require cement dust for preparing the pumping line.
As a general rule, one bag of cement for every 20m of pipeline are required and a tarpaulin under the hopper of the pump is useful to assist with clean-up too.
A hose to the pump is also required.
What is the difference between a boom and a line pump?
Boom pumps are truck-mounted with a hydraulic arm that folds out and is controlled by a radio remote control. This is the ideal solution for precise placement of your concrete on site.
A line pump uses pipes along the ground and is the ideal solution if you are only pumping small quantities or when site space is a premium.
Can you supply concrete with a pump?
We can supply both concrete and a pump as per your requirements.
Will you pump anyone's concrete?
Yes. If you prefer to organise your own concrete, we are happy to pump it. Please make sure that you order a pump mix concrete.
Why are some of your trucks on left-hand drive vehicles?
Most of the pumps we buy come from mainland Europe. It is easier to mount the concrete pump on a cab and chassis in the country of manufacture.
Why do you need me to supply cement?
We use cement and water to form a grout which is pumped in front of the concrete to prevent it from initially blocking. The rule of thumb is one bag of cement for every 20m of pipeline.
Can the concrete mixers wash out in the pump hopper?
We strongly advise against this as washing out in the hopper can cause blockages in the pipeline.
The stone and the water in the concrete segregate and this would require the pump operator to strip down the pipeline or boom to free the blockage.