Schwing 20m pump @ London screen academy, Islington
Embassy's schwing 20m boom pump into the basement @ London screen academy
Cifa 36m pump in Redhill surrey
Cifa 36m pump pouring foundations in Redhill, Surrey
36m Sermac pump pouring Caltite concrete in Woking, Surrey
Embassy's 36m concrete pump pouring Caltite concrete into a concrete slab in Woking.
'Bulldog' line pump in Crawley, Sussex
Line pump at the Houses of Parliament, London
Pumping with the SP 500 static trailer pump at the House of Parliament in Westminster, London
Concrete trailer pump in Highgate, North London
Pumping at Highgate Private Hospital in North London with our Schwing SP 500 trailer pump
Pouring foundations in Fulham
Embassy Concrete Pumping pouring foundations in Fulham London January 2020
28m pump pouring RC basement slab in NW London
Pouring a basement RC (reinforced concrete) slab in North West London NW6. Our Sermac 28m boom pump was set up on the roadside and a screen was constructed to protect passing pedestrians and cars from concrete splash.
Pumping to the first floor in Slough
Pumping concrete up the first floor for the pouring of metal decking slab in Slough, Berkshire
Over 200 meters pumping distance in Tunbridge Wells, Kent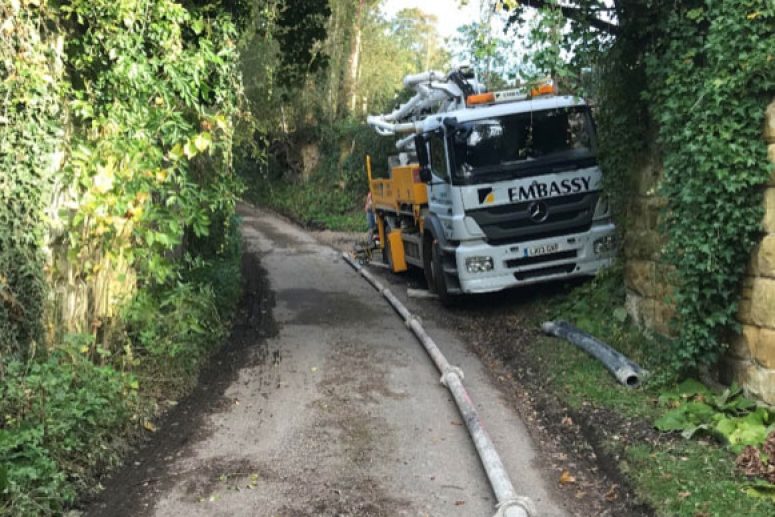 In October 2019 Embassy Concrete Pumping Ltd were asked to pump concrete over 200 meters distance in Penshurst near to Tunbridge Wells in Kent.