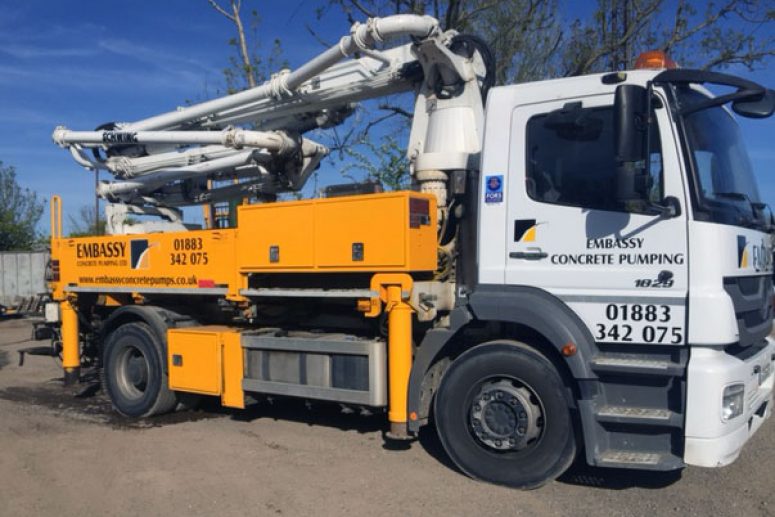 The SCHWING S 20 is a 4-section 20m-reach concrete boom pump which, due to the fact it can set up anywhere you can fit a truck, is incredibly versatile.
3.85m Width set up rigger-to-rigger
3.85m Unfold Height
Radio Remote Control
Turntable outlet making it easy to pump off the side of this pump
Schwing Vector control and Diagnostics system
SCHWING Truck Mounted Concrete Pump S 20
The highly manoeuvrable pump in the city class
With the S 20, SCHWING is extending its product range of truck mounted concrete boom pumps into the city class. Thanks to its front outrigger spread of 3.85m and its vertical stabilization at the rear, this machine can be set up even in the tightest of urban spaces.
The four-section placing boom has an unfolding height of just 3.85m. Its RZ-folding and huge articulation angles of 102° at the A joint and 270° at the C and D joints allow set up in working areas that conventional machines cannot reach.
This machine is equipped with a permanently attached 5m long box on the left side of the vehicle as standard, capable of holding e.g. 100m of DN 75 hose stored in plastic sleeves. An optional hose box can hold an additional 60m of DN 75 hoses in 3m segments.
The S 20 is built on chassis with a wheelbase of 4,200 mm and a gross vehicle weight of 15 to 18 t. As a result, this machine too can be used as a manoeuvrable, space-saving truck-mounted concrete pump for jobs in city centres, indoor and tunnel construction, housing construction and even as a line pump for refurbishment jobs.
The S 20 is also available as a line pump without boom, mounted on a 12 t chassis. Its compact wheelbase and rear outriggers that do not need to be extended horizontally enable working in narrow alleys, driveways or tunnels.
Permanently mounted hose boxes ensure convenient access to 100m of hose up to DN 75 on the left side and 36m of hose up to DN 100 on the right side.
The equipment capacity can be enhanced with an optional detachable 4m long equipment box that accommodates an additional 96m of hose. In all, this pump can transport around 260m of hose when the construction site requires it. And of course, many other options are available for the S 20.
Equipped with a high-pressure pump and a Long Rock Valve, this machine can pump even difficult concrete grades over a distance of several hundred meters. Further advantages of the Rock Valve include high economy, low wear and exceptional dependability.
The water tank is available in either 400 or 800 litres. A wide range of options such as turnable outlet, concrete stop valve or compressor with air line means that you can equip your machine to optimally meet your specific requirements
The outstanding accessibility to the water box allow a fast and easy piston change. The integrated water box flushing system minimizes the daily cleaning procedure.
The 5,10m long storage area is a standard feature and gives the operator the opportunity to carry extra equipment.
In the tunnel or the city – the hybrid technology of the S 20 allows quiet and emmissions free operation.
The turnable outlet is an option that al-lows the operator to connect the pipes to both sides, expanding the scope of his applications.
Technical data
Placing boom
Delivery line diameter

DN 100 / DN 125

Length of end hose

3.0m

Vertical reach

19.5m

Horizontal reach

15.8m

Number of articulations

4

Height of articulations

3.75m / 8.9m / 12.4m / 16.0m

Slewing range

2 x 370°

Outrigger load. front

110 kN

Outrigger load, rear

70 kN
Working range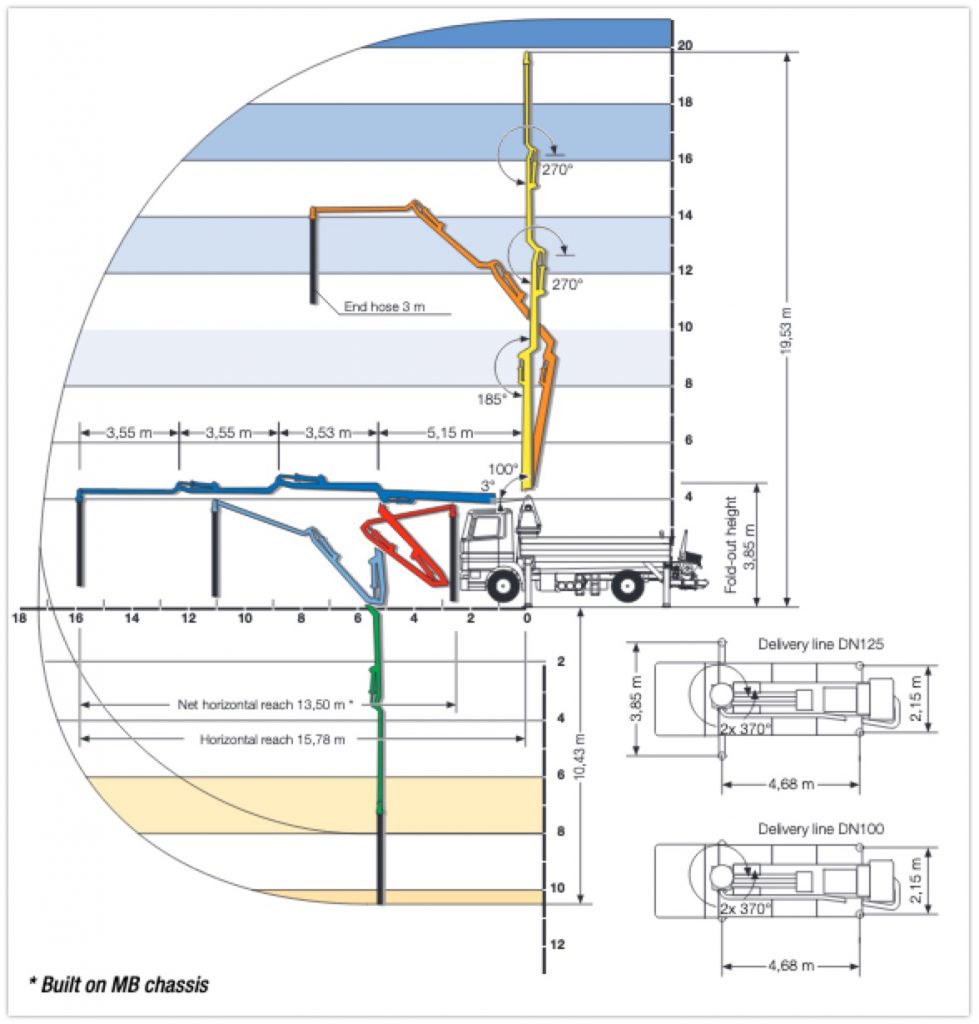 Dimensions