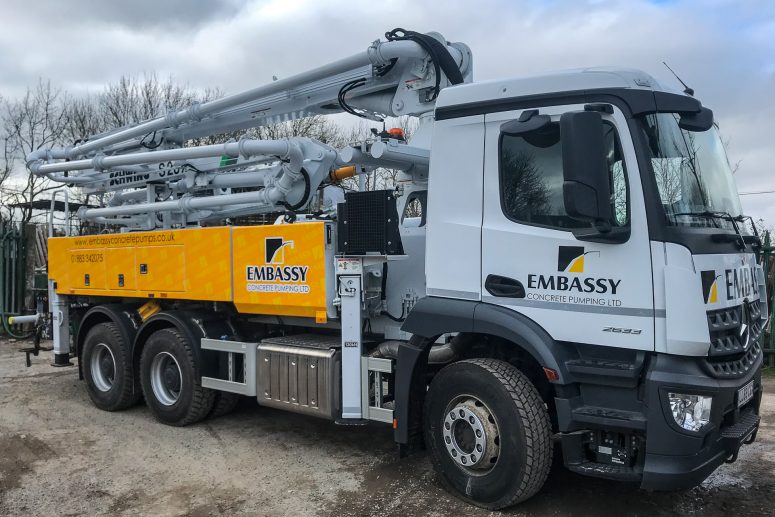 Schwing concrete pumps are recognised as one of the premier concrete pump brands around the world.
The Schwing 28m pump has a low unfold height and — similar to the 24m — is a versatile pump for those tricky jobs.
The Verstile Machine for Those Limited Spaces
Together with the pipes aligned along one side of the boom, the RZ folding system provides for ideal slip and threading pro- perties. Additionally, this machine can reach to a depth of 17.40 m and, thanks to the large bank angle and short wheelbase of just 3.60 m, it is no problem to run off-road or over rough jobsites.
The end hose can be released easily at ground level, dropping out of the holder under its own weight. Continuous pouring is possible from maximum reach right back to the front bumper.
The folding system together with the comparatively large articulation of 104° on the A arm and 270° for the C and D joints, respectively, means that the end hose does not have to be pulled through freshly poured surfaces – in contrast to a simple Z- folding system.
Two slewing cylinders on each side of the boom and the XH outriggers – the vertical cylinders being protected inside square tubes, not subject to any buckling forces – make for even greater operational dependability and maximum service life.
The machine is equipped with removable hose boxes, enabling the operator to use it as a fully functional refurbishment pump.
These boxes can be loaded and unloaded using a forklift, a crane or even the pump's own boom so the pump hoses can get to where they're needed even on cramped construction sites.
The S 28 X provides space for approx. 40 m of hose as standard.
The "jumbo version" can handle 18 five-meter DN 65 hose segments.
As standard, the S 28 X is equipped with pump kits with a stroke of 2 m.
In the basic variant with a pump piston diameter of 200 mm, this pump unit can generate a maximum concrete pressure of 108 bar.
And like all SCHWING truck-mounted concrete pumps it is equipped with the Rock Valve – for exceptional suction and pumping performance, high economy, low wear and excellent dependability.
Upon request this pump is also available with an optional compressor, which is radio remote-controlled; if desired, air/water lines can be mounted up to the tip of the boom.
2 slewing cylinders on each side of the turret guarantee safe and dependable operation.
Additional storage boxes for hoses and pipes can be loaded and unloaded by fork lift, crane or the pumps own boom to place them where they are needed.
The hose boxes can be customized. The plastic sleeves are angled to allow residual concrete to run off.
Dimensions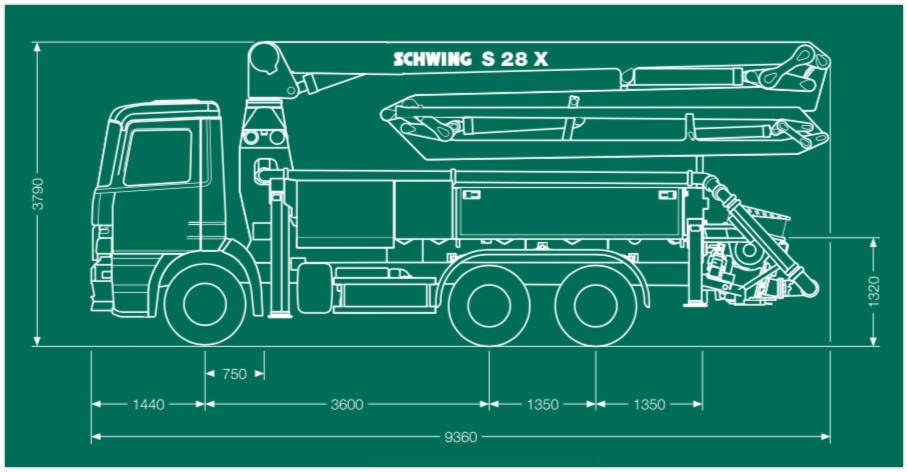 Working Range