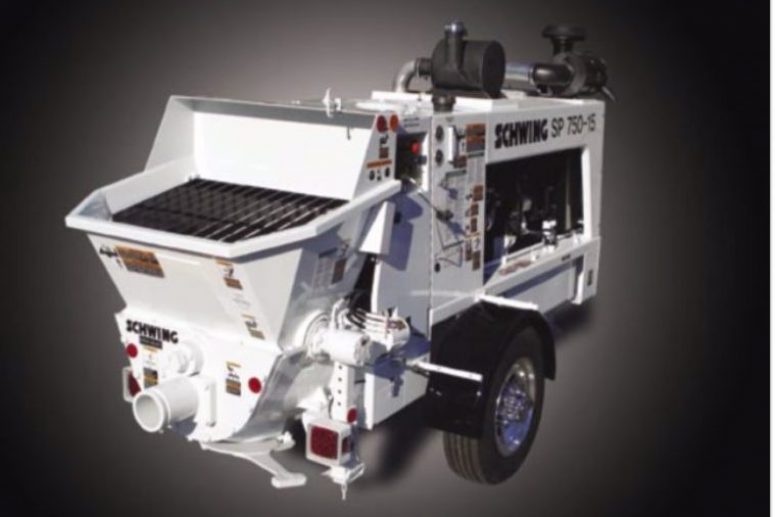 Choose an SP 750 or SP 1000 and you will be amazed at the pumping performance you can achieve. From medium rise buildings to 1,000-foot plus horizontal placements you can do it all. Owners report years of continuous service with only regular maintenance pumping grout for block fill, structural concrete on commercial projects and high volume shotcrete. These affordable static trailer-mounted concrete pumps have all of the features you need to handle a wide range of mixes at volumes that meet the needs of most projects.
The compact size of the SP Models means easy towing to the job. And fast cleanout of the Rock Valve™ adds more jobs per day for more profits. Schwing all-hydraulic design is the key to ultra-reliable operation that pays off whether you are a pumper or concrete contractor. And easy access to maintenance points means your SP will be providing a generous return on investment for years to come through long-term use.
So don't back down from harsh mixes, 24/7 operation or high volume pours at impressive distances. Three models provide all the pumping performance you need. The SP 750s vary by output and the SP 1000 adds horsepower to achieve higher volume at longer distances. All models come standard with LED tail lights and aluminium wheels.
Only one manufacturer can supply the Schwing experience.
Thousands of our customers form a backdrop of success that you can join by letting us spec the right piece of equipment for your needs. Six company stores with technicians and parts placed strategically across the country provide service expertise as close as your phone. And a select group of knowledgeable dealers provides another layer of invaluable experience. You and your staff will be welcomed into our facility to learn how to extract the maximum profitability from your concrete pump.
Generations of successful owners have chosen the Schwing experience. As a third generation family owned company we understand how important quality equipment is to your business and how important your business is to us.
Dimensions