Trialling the New Schwing Stetter TP100 trailer-mounted line pump
Schwing Stetter have recently brought to market a brand-new line pump: It's a towable trailer pump that has the tried and tested Schwing rock Valve system; albeit a smaller version.
The rock Valve system dramatically reduces the amount of maintenance needed for a small trailer pump. Additionally, it possesses the benefit of ease when needing to replace wear parts, due to its simple but extremely efficient design.
Embassy Concrete Pumping Ltd are lucky enough to be one of the first concrete pumping companies to trial the pump here in the UK.
To commence evaluation; the pump appears compact, and with the hood and the hopper cover, this pump looks aesthetically pleasing on the road. The way in which the pump is towed is impressive. It feels extremely stable on the road, and you'd hardly be aware you were towing a concrete pump, despite the 2,100 kg weight.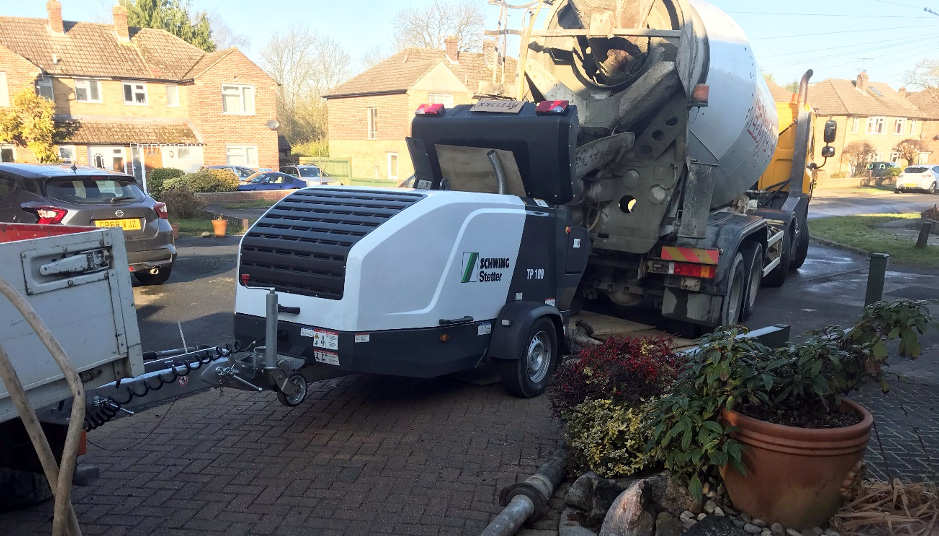 At just under 4.5m length, this is a compact concrete pump and without the long tow bar, it is considerably shorter. This allows the pump to be placed and utilised where others are structurally too big.
For full Spec details download this PDF:
http://www.schwing-stetter.co.uk/Downloads/TP_100.pdf?t=637188462954892888
An additional major benefit to this pump is the radio remote control. The ease of this design allows for the majority of all functions to be controlled remotely, adding to the ease of the job; even allowing you to increase and decrease the engine throttle.
The auto grease system will automatically grease the critical moving parts of this concrete pump. Once again, this will reduce the pump downtime; increasing cost-effectiveness which has obvious multiple benefits; from both a business and client perspective.
Another asset this machine possesses is the ease in which you can regulate the maximum oil pressure. This proves favourable when considering jobs with added challenges, allowing expansion of job acceptances and increasing flexibility of services offered.
The pump possesses a 4-inch outlet pipe, which is perfect for using a 4-inch line as there is no requirement for a reducer.
If forced to outline any issues with this pump; it would be the output which is supposed to be 22m per hour. There are serious doubts about this claim: The Schwing P305 has an output of 23m an hour which seems a lot faster than the TP100.
The TP100 is built-in Schwing Germany as opposed to the Schwing P305 which is built in America. As the TP100 is obviously seen as an upgrade on the Schwing P305; it's undeniable that the TP100 is well built and has loads of features that the P305 doesn't have. If one thing could be improved, it would be the pace in which it pumped. This is easily accepted however, given the overwhelming benefits of the machine, and what a welcome addition it would be to any concrete pump fleet.
To see the Schwing TP100 in action below: