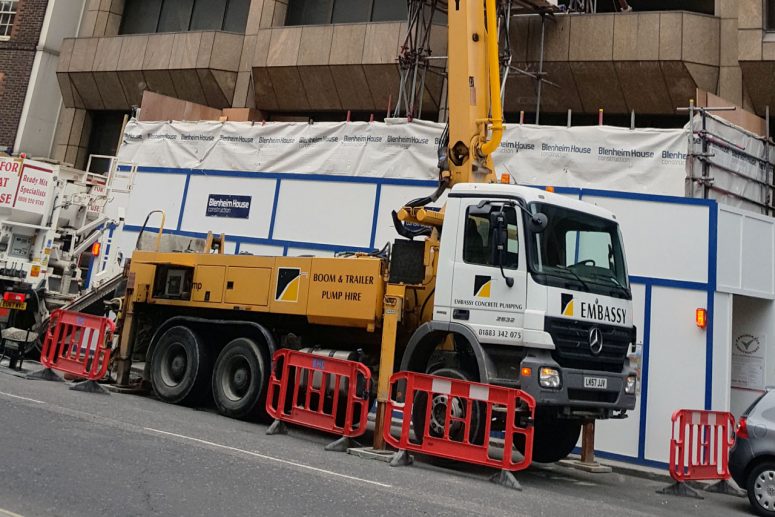 The SCHWING 24 X is a 4-section 24m-reach boom pump capable of pumping 130m of concrete per hour.
The 24 X is an ideal pump for long pipeline runs and is our most versatile concrete boom pump.
Small pump setup footprint (4.7m)
Unfold height of 5m headroom (Ideal for setting up inside a building)
Very versatile machine can set up almost anywhere
---
Whether indoors or out on site, this concrete boom pump is unbeatable in the 24m class.
Its fold-out geometry gives it superb "under and through" snaking properties when working on 2nd, 3rd or higher floors. Add to that the ability to unfold completely inless than 5m of headroom and its superiority quickly becomes clear.
Its combined "Z" and "Roll-fold" geometry makes it possible to manoeuver the end hose from maximum horizontal reach fully back to the front bumper of the carrier truck. But the story gets even better!
Such a boom, set on the easy-operate, space-saving X outriggers and lightweight main-frame, tips the scales at less than 17.5 tons on a 2-axle chassis with the relevant plus in handling and manoeuvrability.
The increased central deadweight of the 3-axle chassis allows for a reduced outrigger footprint of only 4.7m at the front.
The renowned reliability of SCHWING concrete pump cells, combined with ergonomic handling and easy maintenance, as well as the clear arrangement of all control systems, are decisive factors towards the performance and overall economy of the S 24 X.
An absolute must, especially when working indoors or in restricted areas, is an intelligent boom geometry with a sensitive, easy-to-operate control system. Here the SCHWING Pulsar proportional boom control and the standard SCHWING radio remote control attain absolute positioning accuracy with low operator stress. Another further boost to overall economy and efficiency.
Standard:Splash guard and hopper cover,robust steps and hand grips, stowage and holders for tools and accessories.
All hydraulic controls for boom, outriggers and auxiliary circuits positioned centrally behind lockable doors.
Plenty of stowage for extra pipes, hoses and clips behind the swing-down sideboard.
Level catwalks on the under-carriage make for safe and easy cleaning and maintenance.
Technical data
Placing boom
Model

24 ZR

Pipeline dia.

125mm

Length ofend hose

3m

Vertical reach

23.5m

Horizontal reach fromcenter of slewing axis

19.50m

Hoisting angle

108°

1st folding angle

180°

2nd folding angle

270°

3rd folding angle

270°

Slewing range

370°
 Dimensions